Avro keyboard – Typing Avro keyboard Online | Bangla Keyboard
Avro Keyboard (Bengali: অভ্র কিবোর্ড) is a free and open source graphical keyboard software developed by OmicronLab for the Microsoft Windows, Linux, MacOS, Android and iOS operating system. It is the first free Unicode and ANSI compliant Bengali keyboard interface for Windows that was published on 26 March, 2003.
Avro Keyboard has support for fixed keyboard layout and phonetic layout named "Avro Phonetic" that allows typing Bengali through romanized transliteration. Avro Keyboard comes with many additional features; auto correction, spell checker, a font fixer tool to set default Bengali font, a keyboard layout editor, Unicode to ANSI converter, ANSI to Unicode converter and a set of Bengali Unicode and ANSI fonts. This software is provided in a Standard Installer edition and Portable edition for Windows.
You to easily type Bangla online without installing Bangla keyboard software in the editor box above. You can use your computer keyboard or mouse to type Bangla letters with this online keyboard.
Avro Keyboard Layout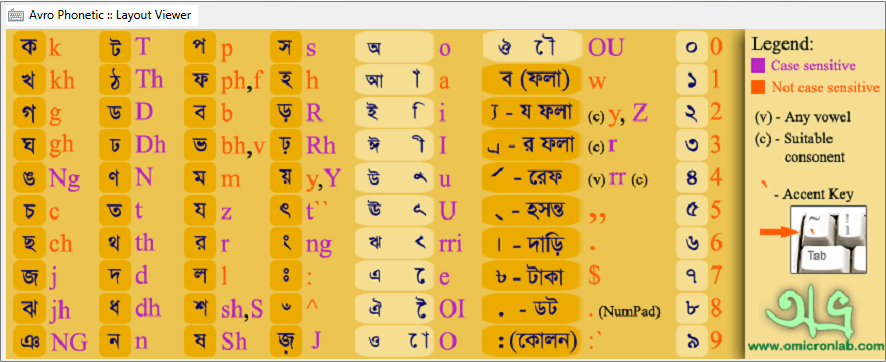 Details Key Map Of Avro Keyboard:
Avro bangla keyboard developer webiste published their keboard details instruction & layout. If you want to show this then Click here to open with PDF